Social entrepreneurs of the week #1
There is a ton of good going on out there. Every Thursday we will highlight a few of our favorite social enterprises, new and old. This list is by no means meant to be exhaustive – please send us your suggestions!
EcoScraps – It probably comes as no surprise that Americans toss 30 million tons of food in the garbage each year. This makes up almost a third of US landfill waste and creates tons of methane, which, according to the EPA, is twenty times more damaging  than CO2. EcoScraps is looking to change  that through taking waste and putting it to good use. Founded in 2010, the company collects food waste from grocery stores and wholesalers and turns it into organic, high quality soil conditioner that it then sells to consumers.  The impact is clear; EcoScrap states that one cubic foot bag of its product lowers greenhouse gas levels on a level equivalent to parking a car for one month.  It uses leftover fruits and vegetables, keeping them from the dump and creating a nutrient-rich soil free of bone, blood meal, and manure. Founded in 2010, EcoScraps continues to grow, plans to expand into several states beyond its native Utah, and has won several awards. It currently collects about 20 tons of waste a day across Arizona and Utah from 70 stores, and expects 2011 sales to exceed $1.5 million.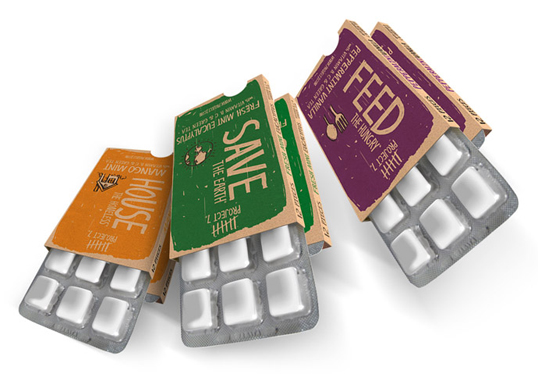 Project 7 – Project 7's mission starts with a straightforward phase that sums up its core business model – "You buy. We give."  Project 7 sells chewing gum, t-shirts, mints, coffee, and bio-bottled water at stores including Walmart, Whole Foods, and Caribou.  It gives funds collected from its products to non profits working in seven areas of need – healing the sick, save the earth, housing the homeless, feeding the hungry, quenching the thirsty, and creating hope for peace. From its Walmart sales alone, Project 7 purchased 10,000 meals for low income families and planted 80,000 avocado and mango trees in Haiti. Project 7 is also committed to volunteering and educating others through a concentrated social media campaign. To buy Project 7 products or participate in its monthly volunteer campaign, 7 Days, visit its website or www.changethescore.com/whatis.
SHE – SHE, or Sustainable Health Enterprises, is making strides in eliminating a key impediment that keep girls and women from attending school and work.  Founded in 2007 with a mission of improving the quality of life for people in developing countries, SHE has developed an initiative devoted to addressing Rwandan women's lack of access to affordable, sustainable sanitary products.  After having experimented with various cheap sustainable raw materials, SHE completely redesigned the sanitary pad, creating a version that is much cheaper than current options. SHE plans to begin manufacturing sanitary products from banana stem fibers in 2011, producing 1,200 pads an hour and reducing prices by an estimated 35 to 75 percent. SHE is additionally addressing the lack of education and political support around what is often a taboo subject. It provides training to Rwandan health and hygiene workers and has partnered with various organizations. SHE is already seeing tangible results -it recently led an advocacy campaign called Breaking the Silence on Menstruation, which resulted in the Rwandan government approving the purchase of $35,000 menstrual pads for Rwandan girls living in poverty.
NuRide – As a passionate supporter of public transportation, my interest was instantly peaked by NuRide.  NuRide promotes various sustainable transportation options, allowing users to track the money they save, see the emissions they prevented, and accrue NuRide rewards points – all for free.  Users simply record when they make work and personal trips via carpools, public transportation, biking, and walking. Even telecommuting or condensed works weeks count. NuRide also offers a network that connects people wanting to carpool. Rewards points can be redeemed for retailer discounts and coupons, and active members redeem an estimated $300 in rewards each year. NuRide is supported by government, employer, and business sponsors and currently boasts 63,000 members.  Since its inception in 2004, it has reduced solo car trips by 6,358,948, miles driven by 164,853,955, and commuters' costs by $36,078,451.